Remember the time when you were having sex where everything was going good and suddenly it felt like all the tension in the world has been released. But you realised that it wasn't the tension, it was the ejaculation (And that didn't even last for a minute).
Hence, your short story became shorter before reaching the end filled with happiness. Hey, cheer up mate! At least, someone got happy even though if it wasn't her.
Well, timing is everything when it comes to exploring sexual pleasures and for once the world will advise you to go slow rather than going fast with respect to this form of art that is sacred.
Men suffering from premature ejaculation is the most common and fixable problem. There are some tricks of the trade that can help the men in holding their horses for a little longer.
"She doesn't want you to cum too soon."
Bring in the Start-Stop Method
Sex is best enjoyed when done safely and slowly admiring every precious moment of your moving love. Make him realise the about the sensation where he knows that it's time. Do that by the means of the start-stop method. Using start-stop movement whilst in the middle of the lovemaking session will give command over to you. Get him excited by stroking his shaft but do remind him to tell you when he's near the ejaculation. At that moment, stop stimulating for some time and start when his arousal level subsides. You can repeat the cycle before making him reach orgasm at last.
The Cow Girl Will Work
An early climax has all the powers to ruin your special moments where reaching the end to get that ultimate feeling of satisfaction almost seems like impossible (Unless he goes down under to finish the job). So, when you both decide to fulfil your needs with each other, do it via cowgirl or reverse cowgirl position.
The cowgirl or the girl on top position gives all the control to the female partner where she can control the speed, thrusts, and movements accordingly. So, you have the power to control the apocalyptic outcomes. Remember, don't go berserk over him or he may surprise you with embarrassment.
Control the Earlier Outcomes with Climax Delay Condoms
We all know the importance of a condom. It not only saves us from the unintended pregnancies but also protect us against the wrath of sexually transmitted infections (STIs). Wearing a condom will provide him with an extra layer but wearing a climax delay condom will give him a lot more extra time. Climax delay condoms contain benzocaine that produces numbness and reduces sensitivity. Hence, it helps in stopping the premature ejaculation, because lesser the sensitivity, the longer you last.
Many would say that reduced sensitivity isn't a good sign for great sex but it isn't what it looks like. So, have sex with climax delay.
Perks of Using Lubes & Gels
Using sexual lubricants and massage gels can also counter the problem of premature ejaculation. Experience heightened pleasure and explore sex as the weapon of pleasure. The lubes not only creates an environment for a smoother, hotter and more sensual session of lovemaking, it also enhances the performance and maximises sensation.
"It's time to go for a ride."
Before you go on the consensual and the sensual journey involving the charms of invigorating sex, make sure that you have tried all those above-mentioned methods and believe me, you will feel the change. Otherwise, you can always concern with a medical expert or a sex therapist (Doctor Sahab Zindabaad).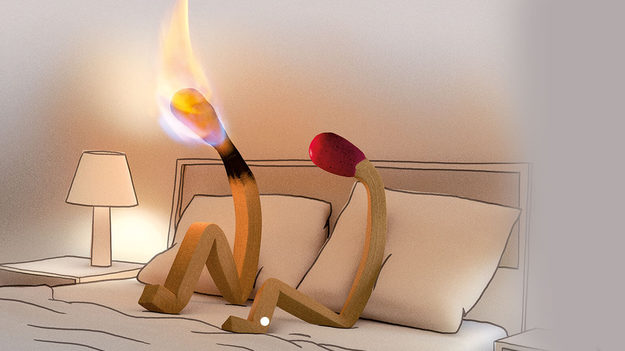 I hope you don't forget to wear a condom, no matter whatever method you are using while indulging in lovemaking. After all, you can't trust someone who's known for spilling beans.